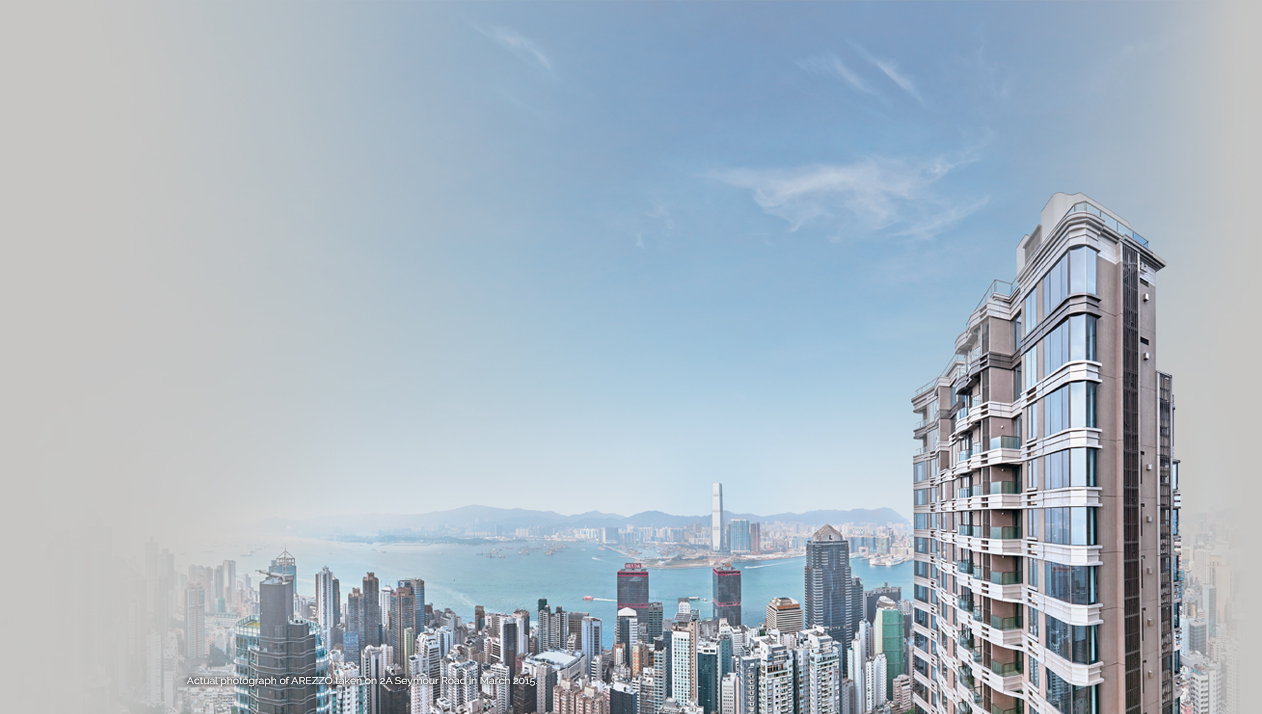 33

Seymour Road

Mid-Levels West

EXQUISITE RESIDENCES WITH SPLENDID VIEWS


All units of AREZZO were fully sold. Please click here to visit other residential developments.

Central to Everything
Mid-Levels has long been one of Hong Kong's most sought-after addresses. Nestled in a distinguished neighbourhood of historical architecture, renowned schools and parks, AREZZO breathes the air of culture and refinement. Just a short stroll down the Mid-Levels Escalator, residents enjoy easy access to Central Business District, SoHo & Lan Kwai Fong.


Sense of Arrival
Enter through the lush landscaped courtyard and experience a sense of privacy and serenity. Upon arriving at the double-height lobby, feel the elegant radiance infused by the alluring art piece designed by American artist Nikolas Weinstein.
Your Exclusive Club
A double-storey clubhouse features a range of facilities including a banquet room with fully equipped kitchen, an indoor & outdoor children's playground, an entertainment room, a gymnasium and a lounge. Residents can also enjoy an outdoor landscaped swimming pool, and a private access to Caine Road via shuttle lifts in the adjoining residential development at 100 Caine Road.*
The Art
of Space
AREZZO is a 48-storey development comprising 127 exquisite residences with splendid views. The design of 3 apartments per floor ensures high privacy. Each floor offers 3 passenger lifts and 1 service lift while the lift lobby design allows more natural light into the interiors and better ventilation.
Typical Units
Special Units
Basic
Facts
Address: 33 Seymour Road

No. of Apartments: 127

No. of Storeys: 48

Saleable Area:

3-Bedroom units from 871 to 1,314 sq ft

3-Bedroom units from 930 to 976 sq ft

Special units and Penthouse from 1,421 to 2,851 sq ft

Floor-to-floor Height:

2/F – 21/F: 3•115M

22/F: Unit A and Unit C: 3•115M and 3•44M Unit B: 3•44M

25/F – 47/F: 3•115M

48/F: Unit A and Unit C: 3•115M Unit B: 2•965M and 3•115M

49/F: Unit A: 3•2M, 3•3M and 3•5M Unit B: 3•2M and 3•5M

50/F: 3•5M

51/F: 3•05M, 3•3M and 3•5M

Facilities: A duplex clubhouse featuring banquet room with private kitchen, outdoor and indoor children playground, gymnasium, entertainment room, lounge and landscaped courtyard

Government Lease Term: 999 years from 28 May 1855

Property Management: Concierge Services by Swire Properties